Childrens Organisations Historical Museum
- Zánka
Address:

8250, Zánka Zánkai Gyermek és Ifjúsági Centrum

Phone number:

(87) 568-500 /3130

Opening hours:

Temporarily closed.
In the 1960'ies, regardless of an ever growing demand, very few permanent youth camps were established, and the ones in function were often badly equipped. Th epioneer organization decided to solve this problem by establishing new camps. Aftet long months of searching they finally found the scarcely inhabeted Ság Plains.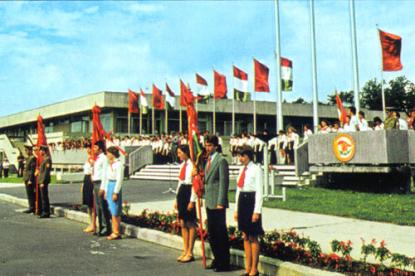 In 1962 decisions were made about the establishment of a whole pioneer town. In 1968 the infrastructure was developed in the plaind situating between Zánka and Balatonakali. On 15th August 1969 the 90 kgs marble foundation-stone was laid.
The pioneer town was officially submitted on 25th May 1971. It was inaugurated by János Kádár. It was the biggest pioneer camp of Central Europe. By the end of the 1970'ies Csillebérc became the the methodology center for the adults, wheras Zánka was used for the training of the youth.In the 1980'ies camp weeks were arranged for groups of fine arts, sports, environmental protection, as well as the disadvantageous children. Besides the summer camps Zánka gave home for conferences, competitions and international camps as well.
In the 1989/90 years, during the change of regime, the state encountered climacteric times. These crucial period was characterized by frequent changes if names, but finally the youth camp remained in the hand of the state and was named as Zánka Child and Youth Center, Educational and Tutorial Institute. It serves the case of the Hungarian child- and youth tourism, education and sports.