Museum of Local History
- Csenger
Address:

4765, Csenger Hősök tere 3.

Phone number:

(44) 715-209, (20) 560-5027

Opening hours:

Mon-Sat 9-12, 13-17

Sun 10-12, 14-17
This ward presents the history of Csenger and its surrounding area by archeological findings, photos, and other documents of history from the Neolithic period up to the 1950's. The large placards on the walls give additional information.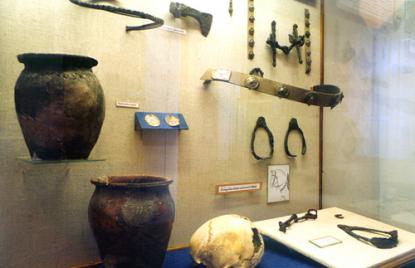 In the first ward various findings from the Neolithic period until the original settlement can trace the history of this area.
The first findings of Szatmár County from the Settlement period are in the second ward. We may also find jewelry found in cemeteries of the Middle Ages and a scull.
Cloths, jewelry, pins, and rings are displayed discovered in the cemetery of the of János village which was destroyed at the beginning of the 18th century.
Following these we present the flourishing of the Town of Csenger through the tiles of the castle of the Melith family and the vaults of the Reformed Church.
In one of the wards a tin jug of the 17-18th century and two valuable Turkish embroidery tablecloths from the 1600's are shown.
The next ward introduces the nobility of the town and their reminiscence.
The raising number of the citizenry and the Jewish population brought on the changes in society at the turn of the century. Stocks, products of handicraft, and several photos show the development of Csenger. The period between WWI and WWII are shown on a wall with several large photos, with local ads, which are complemented with civic interior.
At the end of the exhibition we presents documentation and objects in connection with Csenger from the period following WWII.