Dr. István Jablonkay Region Historical Museum
- Solymár
Address:

2083, Solymár Templom tér 2.

Phone number:

(70) 637-7499

Opening hours:

Wed 14-18, Thu12-16, Sat 9-14
Museum tickets, service costs:
| | | |
| --- | --- | --- |
| Ticket for adults | 400 HUF | |
| Ticket for students | 200 HUF | |
The first room showers the historical-archeological finds of our village from the Bronze Age until the Middle Ages.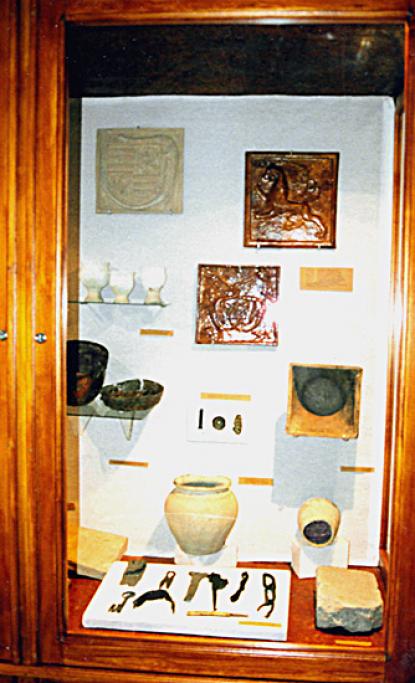 On the first display we can see ceramics from the middle period of the Bronze Age. They belong to the vatyai culture and were found in his local excavation. The Romans occupied Transdanubia in 11-10 B.C., and this area was annexed to the Roman Empire as Pannonia. A settlement developed near Aquincum - Solymár is situated here now- where there lived Celtic, Eravisc and Roman inhabitants together. On his second display we can find dish parts, restored items found during the excavation in he Roman cemetery.
Later the folk Avar settled in our neighborhood. We can see the artistic goldsmith works, silver mountings, earrings, which were found in their cemetery, in the Hungarian National Museum, but we can see the photos of them here.
Solymár was first mentioned in a certificate about a land-grant in 1266. Falconers were hunters belonging to the royal court. They trained falcons to hunt and kill other animals for sport.
This area was settled by Hungarians until the Turkish occupation. The castle was built by palatine István Lackfy between 1360-70. It belonged to kings, queens, high office holders. They all liked hunting in the neighborhood. The most famous owner of the castle was King Mátyás, who also liked staying in his castle. The third archeological display contains finds found in the medieval castle. The Turkish burnt down the castle around 1560-70.
The settlement became uninhabited. Arisztid Valkó started to dig up the castle in the 1930-ies. Since then there were excavations several times and the reconstruction of the wall remains were started too. The first settlers after the Turkish occupation were the Serbians in the beginning of the 18. century Soon arrived German settlers from the area of Schwarzwald and Fulda.