Palóc Museum
- Balassagyarmat
Address:

2660, Balassagyarmat Palóc liget 1.

Phone number:

(35) 300-168, (35) 500-133

Opening hours:

Temporarily closed.
Museum tickets, service costs:
Ticket for adults

(26-61 years of age)

800 HUF

/ capita

Ticket for students

(6-26 years of age)

400 HUF

/ capita

Group ticket for students

4300 HUF

Group ticket for students

5600 HUF

Ticket for pensioners

(62-70 years of age)

400 HUF

/ capita

Ticket for families

(2 adults + 2 children)

1800 HUF

/ family

Combined ticket for families

2300 HUF

/ family

Program ticket

400 HUF

/ capita

Guide

3500 HUF

/ group

Guide

4700 HUF

/ group

Photography

1200 HUF

Photography

1800 HUF
The exhibition gives a summary about the paeasant life of the past 100-120 years. Because of the unfavourable natural aptitudes and social conditions, the opportunities of those living here were rather limited. The peasant lifestyle and culture could but slowly change and develop, and as such a good number of old customs were still continued in the 20th century.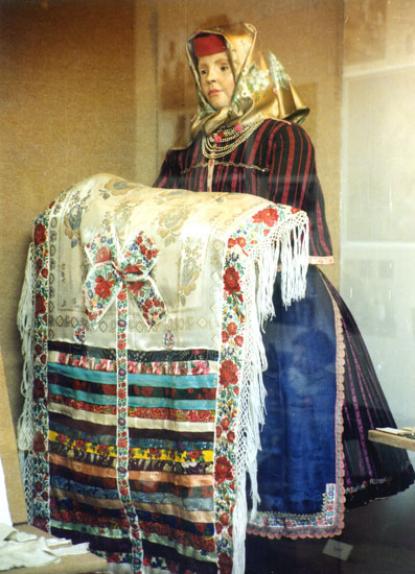 When a child was born, they though it a blessing from God. More experienced and mostély elderly women were working around the bed of the newborn. The perils endangering the child were thought to be driven out by magical activities.
The older brothers and sisters were soon given a part in the supervision and caring for the siblings. As soon as the small ones were able to walk, they went to play together with the rest of the children. The secular and religios education was secured by the school.
During the local entertainments and festivities many love affairs were woven. However, emotions had to be restricted as far as marriage relations were concerned. It was the parent that made the final decision, not the child. The marriage feast was often held for two to three days.
Through the marriage ceremony the lady was taken into the husband's family. At the turning point ov the 19-20th centuries the so called big families were still widespread.
After the hard work of the week-days the peaceful atmosphere of Sundays provided som erest. The significan events of the church were celebrated in a prominent way (anniversary of church building, the feast of the protecting saint, etc.).
During the course of time the lady costumes became less and less adorned.
The death costume was all ready prepared for the time of possible death. Death according to the peasant culture did not mean nihiliation, but the mysterious transformation of human life.
museum hours