István Széchenyi Memorial Museum
- Nagycenk
Address:

9485, Nagycenk Kiscenki u. 3.

Phone number:

(99) 360-023

Opening hours:

01.10-31.03.: Tue-Sun 10-17

01.04-30.09.: Tue-Sun 10-18
Museum tickets, service costs:
| | | |
| --- | --- | --- |
| Ticket for adults | 1000 HUF | / capita |
| Ticket for students | 500 HUF | / capita |
| Ticket for pensioners | 500 HUF | / capita |
The first room represents the history of the Széchenyi family. Beside the whole-figure picture of the money gainer György Széchenyi the genealogy table of the generation, a map showing his lands and properties, and an earl state of arms carved from wood can be seen.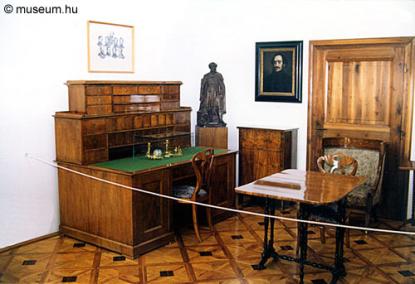 The baroque enteriour, the drawings of Fanni Széchenyi, the books of István Széchenyi's library, Széchenyi's economical system, the seals of the villages around Sopron county in the 19th century - all witness to the wealth of the family.
In the former room we might get a glimpse of the youth period of István Széchenyi. We can see the house in Wien, Széchenyi on his oriental journies and documents regarding the establishment of the Hungarian Academy of Science.
Out of the former visitor hall of the mansion - the sala terrena - there remained the stone mosaic floor and the marble stove. The furniture and the plants try to recall the times when renowned visitors visited the family.
The next, empire style enteriour - originating from a nobiliary mansion nearby - tells us about the circumstances Széchenyi worked and wrote his books. The works Hitel (Credit), Világ (the World) give a summary of his theoretical system.
In 1848 Széchenyi took part in the work of the Batthyány government as a transportation and public work system minister. In the room we can see the enteriour of his work room, whereas his ministerial documents are displayed in the exhibition hall. Here we can also read the article in which Széchenyi's physician talks about the transportation of the insane minded earl to Döbling.
During the years spent in Döbling Széchenyi's health improved so much as he was able to deal with both economic and political matters. Here he wrote the famous "Blick" which he published in London in 1859. The publication brought a tragic turn in his personal destiny. He was driven to suicide through tortures because of the book. The memories of his burial and the mourning can be seen in the show cases.