Kner Printing Industry Museum
- Gyomaendrőd
Address:

5500, Gyomaendrőd Kossuth u. 16.

Phone number:

(66) 581-640, (66) 887-445

Opening hours:

01.05-30.09.: Thu-Sun 10-16
Museum tickets, service costs:
| | | |
| --- | --- | --- |
| Ticket for adults | 700 HUF | |
| Ticket for students | 350 HUF | |
| Ticket for pensioners | 350 HUF | |
| Guide | 1500 HUF | |
Izidor Kner founded his printing house in 1882. The high quality of his work and his excellent style distinguised his printing house from other contemporary factories. Izidor Kner created the economic basis for other interesting activities (such as editing books and producing artistic invitation cards), by printing and selling forms and stationery for public administration services.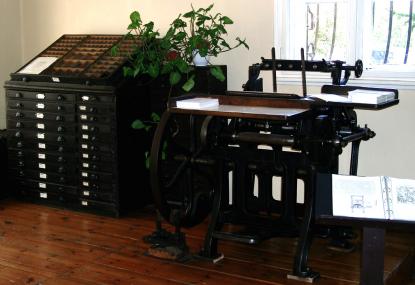 His elder son, Imre, went to learn the profession at Leipzig. At the age of 17 he became the technical manager of the printing house. He abandoned the styles of his time and adopted the baroque. His closest colleague was the designer Lajos Kozma who prepared the ornaments, the initials and the decorative borders for Imre Kner's books. These books made the Kner printing house famous in Hungary and abroad.
Kner later changed his style, adopting Bodoni typefaces. In the Thirties the books were printed in this neoclassical manner.
The founder and his sons were respected for their excellent quality of production and high artistic level; they were also very honest in their business. Between the two world wars, thanks to these principles, the name Kner came to represent the best publications of Hungary.
The family Kner had relations with the most progressive intellectuals of their time and they in turn realised their works in the Gyoma printing house.
Imre Kner had an important literary activity too: he was not only a brilliant printer but regularly wrote articles for specialist reviews and he lectured everywhere.
His sister Erzsébet specialised in fine-craft book-binding. His your.ger brother Albert workeci as a publicity designer. These two first worked in Hungary and later in the USA. The nephew of the founder, György Haiman, was known internationally as a specialist in printing historical research.
The second world war put an end to the development of the printing house; several members of the Kner family became victims of the holocaust.
After 1945 there were serious changes; and in 1949 the printing works were nationalised. 1963 saw a fusion between the printing house of Gyoma and another, Tevan of Békéscsaba. The large, newly created printing house took the name "Kner", but the central office was at Bekescsaba. More recent changes of regime in Hungary were followed by changes at Gyoma also, and in 1992 the printing house became a private company.