The Management of the Körös-Maros National Park - The Visitor Center at Réhely
- Dévaványa
Address:

5510, Dévaványa Réhely

Phone number:

(66) 483-083, (30) 445-2409

Opening hours:

Temporarily closed.
Museum tickets, service costs:
| | | |
| --- | --- | --- |
| Ticket for adults | 450 HUF | |
| Ticket for students | 350 HUF | |
| Ticket for pensioners | 350 HUF | |
| Professional guide | 6100 HUF | / hour |
| Tour guidance | 3500 HUF | / hour |
Nagy-Sárrét only preserved the grand marshlands in its name. The land was full of marshes even in the past century. Due to water regulation at the beginning of the 19th century, the land turned into a lick bleak.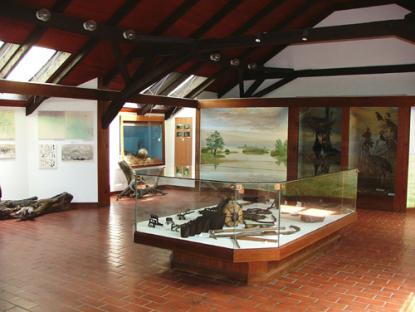 The first section of exhibition shows the past via old photos, maps and stuffed animals. Thus, the visitors can learn about plants and animals that populated the marshlands before the regulations. Paintings by Murai Róbert show the old marshlands and the present bleaks.
The second part shows present values of the region. The bird with the greatest body, the great bustard, lives in this bleaks. The flora and fauna, the only water of the region, the Hortobágy-Berettyó, is introduced in showcases
At the end, the visitors are informed about the reproduction of the great bustard, technologies used at raising stations and the difficulties that arise during the procedures via a 25-minutes long film.
A photo exhibition shows moments photographed in nature in the past five years.
Objects borrowed from the Sárrét Museum of Szeghalom recalls the atmosphere of old professions.