Zoltán Kodály Memorial Museum and Archives
- Budapest
Address:

1062, Budapest Kodály körönd 1.

Phone number:

(1) 352-7106

Opening hours:

On prior notice (Wed-Fri 10-12, 14.00-16.30)
Museum tickets, service costs:
| | | |
| --- | --- | --- |
| Ticket for adults | 1000 HUF | |
| Ticket for students | 500 HUF | |
| Ticket for pensioners | 500 HUF | |
On the spring of 1990 one of the most important workshop of the Hungarian history of music opened for the visitors. This is the only one of the workshops that was preserved the way its occupant left it.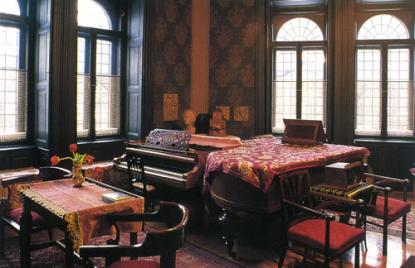 Kodály lived on the Körönd, which was named after him, from October 1924 until his death in March, 1967. He occupied four rooms with the attached chambers. The furnishing was more practical than luxurious, it was the good taste of the tenants that made the flat magical. Vernacular ceramics, embroidery, and numerous relics of his song collecting journeys made the flat unique. Photos of his family, colleagues, and relics of his long course of life ornamented the rooms.
The dining room where the visitors first enter is surprising with its purity. Quests that arrived around lunch time were always invited at the table, those who arrived at tea time was offered mint tea and cookies. The less familiar visitors were also invited to sit at the table of the dining room.
Family friends, musicians arriving to practice were invited to the next room which was ruled by two pianos and was worthy of a Munkácsy painting. Above the door hang the masque of Beethoven, around the stove Lajos Petri's statues which portrayed the host, who himself was never statue like, were organized. The quests who visited the room are represented by their photographs: Yehudi Menuhin, Aram Hatchaturian, József Szigeti, Pablo Casals, and Leopold Stokowski.
The innermost room was, with its desk and library, the actual studio. The library included books on the history of music, ethnography, history of literature, polite letters, poetry, and the numerous dictionaries. The desk, chairs, and the tables were covered with letters and documents, equipments and props of a living studio.
The last room of the museum, the old bedroom, is the location of temporary exhibitions held in memory of the oeuvre of the artist mostly representing the Kodály Archives,
Ferenc Bónis