Albertfalva Region History Collection and School Museum
- Budapest
Address:

1116, Budapest Pentele utca 8.

Phone number:

(1) 208-6635

Opening hours:

Temporarily closed.
Museum tickets, service costs:
| | | |
| --- | --- | --- |
| Ticket | 100 HUF | |
| Group one-day ticket | 200 HUF | |
The first records made regarding schooling in Albertfalva were first made back in 1828. The school then established later became the Sándor Petőfi Primary and Secondary School, with a museum attached to it.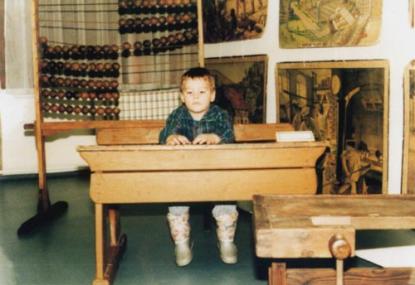 The first teacher of the school, Vencel Vodicska also worked as a notary public in Albertfalva. The first school building was erected in the place of the Cotton Factory. In the research of the school history the great-great grandson of the first teacher gave us much assistance.
The museum had been protecting pictures of classes since 1896 and registry books since 1915.
Besides the primary school training, the education of industry students also began in the second half of the 11th century. Students were taught Hungarian and German languages. On one side of the desk there is the Hungarian, on the other side the Austrian arms. On one side of the exercise-book the pupils wrote in Hungarian, and they used it for German on the other side. An examination sadly declares that out of the 28 pupils only 6 attended school classes regularly, for the carpenter did not let his students leave their work.
The museum displays the relics and events of various school year. The permanent exhibition consists of nearly 100 tabloids of 1,5 square metres. As the exhibition space is quite small, only the tabloids of the first 150 school years are displayed. Apart from these old booklets, exercise books, writing devices, certificates, teachers' degrees etc. are exhibited. We can trace back the extension works of the school buildings. Visitors will find how the school became the biggest primary school of the country, in 3 buildings, 50 classrooms, 1858 pupils and 140 teachers.