Albertfalva Region History Collection and School Museum
- Budapest
Address:

1116, Budapest Pentele utca 8.

Phone number:

(1) 208-6635

Opening hours:

Tue, Thu 16-18

(Closed in school breaks)
Museum tickets, service costs:
| | | |
| --- | --- | --- |
| Ticket | 100 HUF | |
| Group one-day ticket | 200 HUF | |
The central settlement of the Celtic Eraviscus tribe was situated in the Southern slope of the St Gellért-hill, Budapest. In the first half of the 1st century the Roman government moved some part of the Eraviscus people to the plains of Albertfalva. A significant part of the ancient settlement lay in Albertfalva.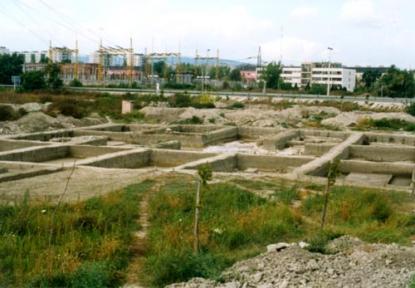 The first excavations were carried out in the 1950'-ies, then they were continues in 1994 on the other side of road 6. The value of the region is that it is still untouched. Negotiations about building works are there, but authorities demand that the excavations have to be carried out first.
The museum collected the photos that were made during excavation works. The permanent exhibition represents these pictures. The following pictures can be seen:
- wall painting,
- Roman sanctuary, dwelling house, remains of the army road,
- reconstruction of the auxiliaria camp,
- remains of animal cemetery,
- leg shield with the figure of Mars,
- part of face shield,
- machine gun,
- grave stones Sabina (died at 14) and an Eraviscus couple,
- Epona,
- Diana's table,
- Traianus - bronze coin,
- candlestick with horse head,
- cace sample with the figures of Victoria and Hermes,
- cup,
- round candlestick,
- clay glass,
- glass utensils.
The exhibition held in 1994 of the relics kept in the Aquincum Museum was a great success.