Palóc Museum
- Balassagyarmat
Address:

2660, Balassagyarmat Palóc liget 1.

Phone number:

(35) 300-168, (35) 500-133

Opening hours:

Temporarily closed.
recommended age:
6 - 10 year
Museum pedagogy contact person
Molnár Ildikó
+36(35)300168
Equipment in the institute
Professionals:

museologist
Leisure equipment:

cloakroom,

gift shop,

medical office nearby,

restaurant nearby,

seat cushions
Related exhibitions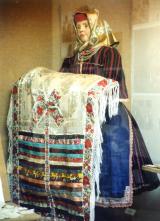 The exhibition gives a summary about the paeasant life of the past 100-120 years. Because of the unfavourable natural aptitudes and social conditions, the opportunities of those living here were rather limited. The peasant lifestyle and culture could but slowly change and develop, and as such a good number of old customs were still continued in the 20th century.

further exhibitions