Hungarian National Museum King Mathias Museum
- Visegrád
Address:

2025, Visegrád Fő utca 23.

Phone number:

(26) 597-010

Opening hours:

Tue-Sun 9-17
recommended age:
5 - 25 year
Museum pedagogy contact person
Király Zsófia
(26) 597-010
Equipment in the institute
Professionals:

museologist
Rooms:

activity room,

lecture room,

workshop (rooms)
Leisure equipment:

accessible restroom,

buffet,

gift shop,

medical office nearby,

playground,

portable chairs,

rest stop,

restaurant nearby,

seat cushions,

tea room
Traffic:

accessible building,

museum map,

parking lot
Related exhibitions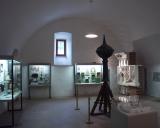 The new palace was located on 123 x 123 m. The gate tower stood in the middle of the facade facing the street. On one side the kitchen, on the other side stores and wards attached to the tower. The first yard of the palace was a large inn yard. Flower gardens of the king and the queen belonged to the building.

further exhibitions