István Dobó Museum
- Eger
Address:

3300, Eger Vár 1.

Phone number:

(36) 312-744

Opening hours:

01.11-28.02.: Tue-Sun 8-17

01.03-31.03: Tue-Sun 8-18

01.04-30.04.: Tue-Sun 8-19

01.05-31.08.: Tue-Sun 8-20

01.09-3.09.: Tue-Sun 8-19

01.10-31.10: Tue-Sun 8-18

Jailhouse exhibitions: 01.05-04.10.: Tue-Sun 9-17

Exhibition: 01.11-31.03.: Tue-Sun 10-16

01.04-31.10.: Tue-Sun 9-17
recommended age:
10 - 18 year
Museum pedagogy contact person
Equipment in the institute
Professionals:

museologist
Rooms:

activity room
Leisure equipment:

accessible restroom,

playground,

rest stop,

restaurant nearby
Traffic:

parking lot
Related exhibitions
1970.01.01. 01:00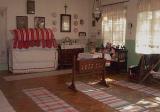 The body of the collection was put together by Mrs. Szak├ícs Magda M├ęsz├íros fifty years ago. She bought piece after piece, sewings, home fabric and cloths while travelling through Pal├│c Land. She processed the rich variation of embroidery she found on home fabric which she showed at national applications. She was honoured with the title "Folk Applied Artist".

further exhibitions