Municipal Museum of Art - Radnai Collection
- Győr
Address:

9021, Győr Király u. 17.

Phone number:

(96) 322-695, (20) 532-2644

Opening hours:

Tue-Sun 10-18
recommended age:
14 - 18 year
Ticket prices
| | | |
| --- | --- | --- |
| Program ticket | 400 HUF | / capita |
Museum pedagogy contact person
Turzai Erika
(20) 532-2644
Equipment in the institute
Professionals:

drama teacher,

museologist
Rooms:

activity room,

lecture room,

workshop (rooms)
Leisure equipment:

cloakroom,

gift shop,

medical office nearby,

portable chairs,

rest stop,

restaurant nearby,

seat cushions
Traffic:

vehicle inside the building
Location: exhibition ward
Related exhibitions
1970.01.01. 01:00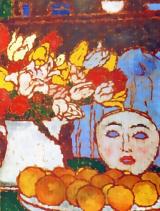 The acquisition of the private collection of Dr. Radnai Béla and the design of the exhibition ward where it is shown, the Esterházy Palace, was the work of the Mayor Kolozsváry Ernő (1990-1994. He himself was a collector of artworks. The Mayor Balogh József fulfilled the work of his predecessor with opening the exhibition on 2, December 2005. Besides many classic works of modern Hungarian art, we also show works born in the first half of the 20th century.

further exhibitions