Walking, bicycle or car tour (16,9 km)
A number of county houses recall the past of Sokoróalja situated among the hills near Győr. We can set off hiking, too.

Stops of a tour
1. Tényő

9111 Tényő, Kétsor utca 16.
2. Felpéc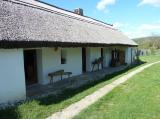 Museum and Regional House Felpéc
9122 Felpéc, Petőfi u.20
3. Kajárpéc

Region Historical and Archeologic Collection
9123 Kajárpéc, Fő utca 10.
Útvonal hossza: