OTP Bank - Monetary Historical Collection
- Budapest
Address:

1051, Budapest Vigyázó Ferenc u. 6.

Phone number:

(1) 473-5617

Opening hours:

Temporarily closed.
Hungary's 150 year-old financial institution history is almost insignificant compared to the country's 1000 year-old legacy. Still, early memorabilia qualifying as rarities hold historical value; the documents represent an era and economy of a time gone by. These can now be visited in OTP Bank's Financial History Collection.

Here you can find written documents and objects relating to the establishment of the first Hungarian Savings cooperatives and banks and to the banking establishments thereafter: writing and calculation tools, office equipment and decoration, paintings, gravures, graphics, photos and posters.

In our securities records, you can find several thousand share and partnership notes issued by several hundred financial institutions and other companies limited by shares (in the industry, transport, culture, trade etc.) in addition to a number of savings cooperatives and hundreds of government and corporate bonds. Furthermore, this collection of about 30,000 items, unique in its nature, also holds and maintains old furniture and professional books, thousands of depositor's books, lottery tickets, manuscripts, documents, coins and banknotes. Via posters, leaflets, and brochures, several pieces in the collection advertise financial services, suggesting savings; we can be proud of our collection of more than 400 money-boxes presented in various formats, forms and materials as well.

Today still, the collection keeps growing in the form of purchases and gifts. We acquired a large number of securities, articles used by financial institutions, professional books, and documents dating back to pre-World War II, and even the 19th century. The local securities business is already heading for issues in dematerialised form; therefore, we give special attention to the acquisition and archivation existing physical securities samples.

Of course, we shall not forget about the collection and storage of valuable materials relating to the old National Savings Bank, which was founded in 1949, and transformed into a company limited by shares effective January 1, 1991, under the name National Savings Bank and Commercial Bank plc.

Our permanent exhibit, next to the small banking office, houses various articles used by banks - office machinery and tools, money boxes, securities, medals and plaques - which were originally held by the Hungarian Commercial Bank of Pest, established in 1841. Moreover, actual circulated coins and medallions, banknotes, treasury boxes, and works of art are shown in display cabinets alongside memorabilia from the first decade of OTP National Savings Bank.
Permanent exhibitions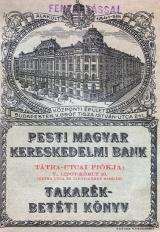 We show the interior of the beginning of the 20th century of the office of the First Commerce Bank of Pest founded in 1841. Varied objects, machines, safes, documents, coins, bonds and moneyboxes are displayed in the showcases, along with fine artworks. We show material of the present and past of the National Savings Bank and the OTP Bank.

further exhibitions