OTP Bank - Monetary Historical Collection
- Budapest
Address:

1051, Budapest Vigyázó Ferenc u. 6.

Phone number:

(1) 473-5617

Opening hours:

Mon-Sat 9-16, Thu 9-14
Hungary's 150 year-old financial institution history is almost insignificant compared to the country's 1000 year-old legacy. Still, early memorabilia qualifying as rarities hold historical value; the documents represent an era and economy of a time gone by. These can now be visited in OTP Bank's Financial History Collection.

Permanent exhibitions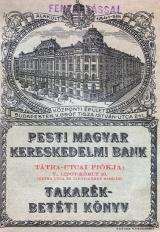 We show the interior of the beginning of the 20th century of the office of the First Commerce Bank of Pest founded in 1841. Varied objects, machines, safes, documents, coins, bonds and moneyboxes are displayed in the showcases, along with fine artworks. We show material of the present and past of the National Savings Bank and the OTP Bank.

further exhibitions