Katona József Memorial House
- Kecskemét
Address:

6000, Kecskemét Katona József u 5.sz.

Phone number:

(76) 328-420

Opening hours:

Temporarily closed.
Permanent exhibitions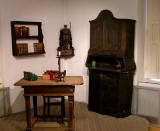 The visitors can learn about the cultural situation of the age of Katona József, the life of the writer, the Theatre of Pest and the most important features of the history of Bánk Bán.