Katona József Memorial House
- Kecskemét
Address:

6000, Kecskemét Katona József u 5.sz.

Phone number:

(76) 328-420

Opening hours:

18.01-20.12.: Tue-Fri 10-14
Katona József was born in it in 1791 and spent most of his life there. He learned about the life of a market town first there, as it is written in all biographies about him: he listened to the frogs, the bells of the cows going home and he imagined trips to the bleaks nearby.

Permanent exhibitions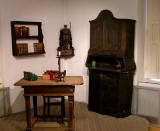 The visitors can learn about the cultural situation of the age of Katona József, the life of the writer, the Theatre of Pest and the most important features of the history of Bánk Bán.

further exhibitions