Exhibition Hall of the Police Historical Museum - Tarnaméra
- Tarnaméra
Tarnaméra is a village with a population of 2000. It is situated along the river Tarna in Heves County. The castle in the middle of the village was built by the Almásy family and was bought by the Schslossberger family later. After WWII, it was nationalized, a primary school occupied it. As at the time of the renovation works frescoes were found in many rooms, the building was declared national monument.

Permanent exhibitions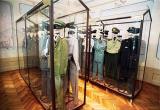 The exhibition - entitled "The police institutions of the world" - demonstartes 127 uniforms of 91 countries in 5 exhibition rooms. Most of the uniforms were gifted to the museum on the 70th Committee of the Interpol.

further exhibitions