House of Terror Museum
- Budapest
Address:

1062, Budapest Andrássy út 60.

Phone number:

(1) 374-2600

Opening hours:

Tue-Sun 10.00-18.00
The House of Terror Museum, which opens on February 24th , 2002 at 5PM and is unique in its genre, wishes to erect a monument to the memory of those of our compatriots who were held captive, tortured and killed in this building, but apart from presenting the horrors in a digestible manner, it also wishes to make people understand that the sacrifice for freedom was not made in vain. From the fight against the two cruellest systems of the 20th century eventually the forces of freedom and independence came out victoriously.

Permanent exhibitions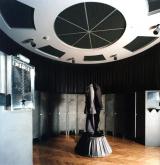 Walking through the halls named after the periods exhibited within them, one can get acquainted, in chronological order, first with the terror of the Hungarian nazi and then the communist regime.

further exhibitions