Medical Historical and Pharmacy Exhibition
- Karcag
Address:

5300, Karcag Széchenyi sgt. 45.

Phone number:

(30) 377-3766

Opening hours:

Temporarily closed.
The Self-Government of the town of Karcag passed the resolution 52/2003. (II.25.) "kt." to found the Medical Historical and Pharmacy Exhibition. The resolution made by the delegates stated that the maintainer takes responsibility by preserving the building and the collection. The actuation of the institution was entrusted to the Déryné Youth and Cultural Center to provide with the condition of work.

Permanent exhibitions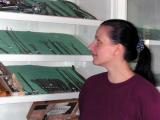 The people called the pharmacy Solcz pharmacy after its owner Gábor Solcz (Szepesváry after 1943). Gábor Solcz was born in Komádi in 1886 and died in Karcag in 1967. He received his diploma from the University of Budapest in 1907 after which he worked in the pharmacy of his father in 1908-1910. He became a master pharmacist in 1909. In 1909, he received a permission to open a pharmacy himself.

further exhibitions