Country Museum in Hajdúdorog
- Hajdúdorog
Address:

4087, Hajdúdorog Rózsa utca 18.

Phone number:

(30) 237-7360

Opening hours:

On prior notice
The Rural Museum of Hajdúdorog is a typical representation of the way of living of the peasant population at the end of the XIX. century. The small house has no porch, rather a small open area before the door, functioning as a rain cover. The only decoration of the facade is two pillar-imitations.

Permanent exhibitions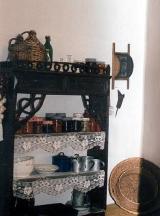 Entering the door, we get into the so called 'pitvar', the kitchen of the house. The iconic open-chimney is the most remarkable representation of the way of preparing food in the old times. The smoke from the oven comes out freely, and exits the house from the chimney in the middle of the room. The way of the smoke is marked by black dust on the ceiling.

further exhibitions