King St. Stephen Museum
- Székesfehérvár
Address:

8000, Székesfehérvár Fő u. 6.

Phone number:

(22) 315-583

Opening hours:

04.01-30.04., 01.10-22.12.: Tue-Fri 10-14, Sat-Sun 14-18

01.05-30.09.: Wed-Fri 10-16, Sat-Sun 12-18

24.05.2015.: 10-18
The Jesuit Order maintained the plot bordered by the Saint John Lane and the Oskola Street Main Street in 1688, after the liberation from the Turkish reign. At that time and for a long time after the Turkish reign, the Church and the attached buildings on the other side of the Oskola Street were occupied.

The new church and the parish were built in two stages between 1742 and 1756 by the plans of Paul Hatzinger. The Paulites took over the church and the buildings after the Jesuits ere disintegrated in 1777. However, in 1786 they were also disintegrated. The building was seized by the army, first it was used as a storage house, later at the time of the war of Napoleon as a hospital. In 1950, the Cistercian order obtained the buildings and the church. Following the disintegration of all the orders the parish was used for a girl's collage.

The building was taken over by the museum in 1978. Today it is the center of the Board of Directors of the Museums of the County. Beside the roman stone collection a new Archeological exhibition is open for the visitors. The central studio of restorations, the photo laboratory, and the storage house are all situated in the main building. The anthropological collection and the stone collection of the museum that is the largest in Hungary as well as the rooms of the researchers and the auditoriums are located here.

We would like to direct the attention of the visitors to the rich stucco of the auditorium and the stairwell that were created with all possibility by an Italian artist. The frescos on the wall of the stairwell that leads up to the second floor illustrate the text of the litany of Loreto. These pictures were not discovered until recently as they were covered by a layer of plaster probably put on at the beginning of the 19th century. We suppose that their creator were the Jesuit praters, Johann Magis and Anton Werle. Anton Werle was the helper of Franz Sambach who did the frescos of the church.
Permanent exhibitions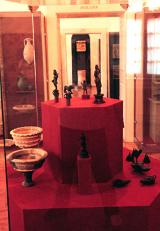 The Archaeological exhibition opened in 1992 is located on the first floor of the Monastic Quarters. It is made up of four individual units, from the Neolithic to the end of the Turkish subjection in Fejér County.

further exhibitions