King St. Stephen Museum
- Székesfehérvár
Address:

8000, Székesfehérvár Fő u. 6.

Phone number:

(22) 315-583

Opening hours:

04.01-30.04., 01.10-22.12.: Tue-Fri 10-14, Sat-Sun 14-18

01.05-30.09.: Wed-Fri 10-16, Sat-Sun 12-18

24.05.2015.: 10-18
The building was taken over by the museum in 1978. Today it is the center of the Board of Directors of the Museums of the County. Beside the roman stone collection a new Archeological exhibition is open for the visitors. The central studio of restorations, the photo laboratory, and the storage house are all situated in the main building. The anthropological collection and the stone collection of the museum that is the largest in Hungary as well as the rooms of the researchers and the auditoriums are located here.

Permanent exhibitions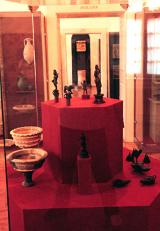 The Archaeological exhibition opened in 1992 is located on the first floor of the Monastic Quarters. It is made up of four individual units, from the Neolithic to the end of the Turkish subjection in Fejér County.

further exhibitions