Hungarian Natural History Museum
- Budapest
Address:

1083, Budapest Ludovika tér 2-6.

Phone number:

(1) 210-1085, (1) 303-6193

Opening hours:

Temporarily closed.
This museum, founded by the wife of Count Ferenc Széchényi with her collection of minerals, it is now home to 10 million items: rocks, minerals, fossils and animal, plant and human remains.

Permanent exhibitions
The authentic reconstruction can be seen in 13 000 liter water in the aquariums in the passageway under our feet and in the walls.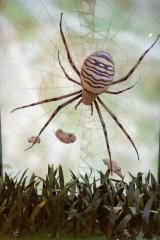 The exhibition contains hundreds of original objects, several life-sized reconstructions and many photos to illustrate the variety of landscapes, the species-rich habitats and the genetic diversity of species.

further exhibitions