Forestry Museum of Stajer-house
- KĹ'szeg
Address:

9730, Kőszeg Kőszegi-hegység 0344

Phone number:

(94) 329-977

Opening hours:

01.05-30.09.: Thu 10-16, Sat-Sun 10-16

01.10-23.10.: Sat-Sun 10-16

(Also at other times on prior notice)
The Styrian houses were built by the Town of KĹ'szeg in the middle of the 1750's for the families who moved in from Styria. It was important as the 3000 hectare of forest they received from the treasure had to bee used professionally.

The walls were made of rubble stone embedded in clay. The houses had open fireplaces while the roof was made of wooden shingle. Throughout the years smaller works were performed on the houses. The open fireplaces were exchanged for furnaces, the wooden shingle for tile.

The houses were occupied until the 1950's and then were left alone for a long time. Their original looks were preserved during the restoration works.

The Szombathely Forestry Inc opened the Styrian House Forestry Museum in one of its buildings in the year of mille centenary. It became a favored location of nature lovers. Presently the Styrian House belongs to the Forestry Education Center.
Permanent exhibitions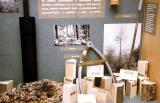 The material shown introduces the rocks of the Hills of KĹ'szeg, its flora and fauna, its forestry and hunt, past and famous researchers. In one of the rooms we show the long past so that the visitors can fly back in time and ponder on the past, present and future.

further exhibitions