Address:

7500, Nagyatád Széchenyi tér 2.

Phone number:

(82) 352-028

Opening hours:

Temporarily closed.
City Museum in Nagyatád was opened on 26th April 1996 the 25th anniversary of awarding the title of the city to Nagyatád. (The institute is not independent; it belongs to the Cultural House from both management and financial points of view.)

Permanent exhibitions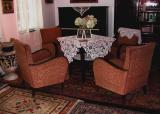 Findings resulting from archaeological excavations in Bodvica (south part of city Nagyatád) in 2002 are placed in two glass cabinets. (This excavation was the first important one in the city.) There were remains of a rotunda (a church with circle basis) from period of King Mathias and findings from various graves found. The form of the church was considered very particular in the mentioned period because the circle ground plan was not typical that time yet.

further exhibitions