Sopron Museum - Storno House
- Sopron
Address:

9400, Sopron Fő tér 8.

Phone number:

(99) 311-327

Opening hours:

01.10-31.03.: Tue-Sun 14-18

01.04-30.09.: Tue-Sun 10-18
Our exhibition displays the collection of the family in the rooms that the family utilised between 1875 and 1984. The enteriours furnished by old relics and the art works of the family give us a faithful picture of the dwelling cultutóre at the end of the 19th century. Visitors may see valuable pieces of furniture, weapons, glass and porcelain works, etc.

Permanent exhibitions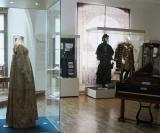 The remade exhibition invites the visitors to find out about the modern history of the town and its suburbs. The exhibition is the thematic extension of the permanent exhibition entitled 'Millennias along the Amber Road' located in the Fabricius House. The show is a mixture of traditional and modern methods of exhibiting. From the 16th to the 19th century, the material chronologically and thematically follows the history of the town and the old county.

further exhibitions