Péter Pál Civic House Museum
- Szentes
Address:

6600, Szentes Petőfi u. 9.

Phone number:

(30) 605-4680

Opening hours:

On prior notice
At the corner of Petőfi Sándor and Iskola streets is the most beautifully preserved example of the civic houses in the old Úri Street. It was built around 1830. In the cellar there exists an exhibition area and a lecture room. Péter Pál Ottokár's reconstructed medical surgery of the 1920s is displayed in the study. Apart from the contemporary furniture, the surgical instruments and the medical history collection of the old County Hospital are displayed here.

Permanent exhibitions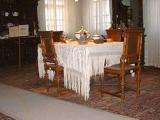 The individual iron stove belongs to the romantic furniture in the corner room. The stove heated the adjoining salon through cast iron ornamental bars. The objects include the table laid for celebration and chairs around it.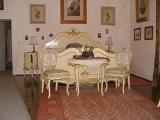 The imitation late Rococo white gilded furniture is accompanied by a Biedermeir sofa and a white bench for bathtubs for bathing babies. An iron stove once heating the salon is also positioned in the room. The objects represent hygiene practices in the past.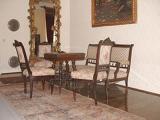 The salon only has a piano, music sheet stand, an ornamented mirror and a Biedermeir sofa in. (Old music sheet stands, a cupboard, a music box from the turn of the century, a coffee table, plants etc.)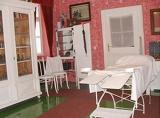 The office of the lawyer Albert Péter was converted into a medical office for Ottokár Péter Pál, his younger son around 1920. The period furniture is part of the medical history collection from the old Comitatus.

further exhibitions