Theatre Historical and Actor Museum
- Miskolc
The renovated building and the exhibition was handed over in the year of the 1100th anniversary (1996) of the Hungarian conquest. The exhibition recalls the memory of the theatric performances in Miskolc. The thought first occoured in 1984 and 12 year later, on the initiative of actor Ferenc Gyarmati, the exhibition was arranged.

Permanent exhibitions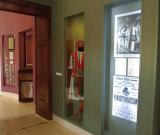 The first section evokes the beginning of acting in Miskolc: a number of outstanding theatre people visited Miskolc in the 19th century. The marble statues at the arch entrance commemorate them.

further exhibitions