Address:

1081, Budapest K├Âzt├írsas├íg t├ęr 20.

Phone number:

(1) 477-1347, (30) 411-6969

Opening hours:

Mon 9-11, Tue-Sun: on prior notice
The Gas Company of Budapest has always held it important to collect and protect the relics and ocuments of the Hungarian gas supply. Most of the appliances were collected in 1971, when they swifted from th euse of town gas to natural gas.

The collection was stored in several places, but its thematically organized exhibition could only be seen under 3 Bajcsy-Zsilinszky Road. The items were placed into their final place (K├Âzt├írsas├íg Square) in 1994.

In the following year we opened up the exhibition entitled "The beginning of the gas supply of Budapest between 1856 and 1945". Items not exhibited are placed in a separate store. Maps, photographs, books and periodicals are placed in a documantation store.

In 1996 we arranged a new exhibition under the title of "The gas supply in Budapest is 140 years old. This is the material still seen in the museum.

Permanent exhibitions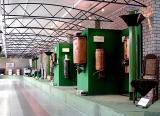 The technical development of gas meter production can be followed up between 190 and 1995. The section is closed by the currently used meter that works by a magnet card. The most valuable and special part of the collection is made up by 6 pieces of gas-stoves made around the turn of the century.

further exhibitions