Bálint Balassa Museum - Mihály Babits Memorial House
- Esztergom
Address:

2500, Esztergom Babits Mihály utca 11. (Előhegy)

Phone number:

(33) 500-175

Opening hours:

01.05-31.10.: Wed-Sun 10-18
The days of the Babits Mihály Memorial House were hectic after the death of the writer. The last time Sophie Török visited it was in June 1943 when she was accompanied by Ferenc Einczinger. They collected and moved the most important furniture, books and various other objects. The rest were taken by strangers.

After the war, the house operate as a bordel. Later on a teacher rented it, then a police officer, and later a farmer who kept goat and fowl in the bedroom. The decaying building was finally declared protected monument by the Monument Bureau in 1960. It was first opened after reconstruction on 6 August 1961. The rebirth of the Babits Memorial House commenced in 2008. The scale of reconstruction works, however, exceeded all former ones.

The remade permanent exhibition is open since 7 May 2009. A study for hosting quest artists and museologists will be set up in the Memorial House.


Permanent exhibitions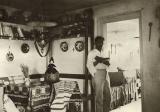 Mihály Babits (1883-1941), the outstanding classic figure in Hungarian literature, was a poet, writer, translator, literary historian, and a key figure of the first generation of the literary journal, Nyugat.

further exhibitions