Museum of the Hungarian Petroleum Industry
- Zalaegerszeg
Address:

8900, Zalaegerszeg Wlassics Gyula utca 13.

Phone number:

(92) 313-632

Opening hours:

01.04-31.05.: Tue-Sun 10-16

01.06-31.08.: Tue-Sun 10-18

01.09-31.10.: Tue-Sun 10-16
The Hungarian oil industrial Museum was established in 1969. Its purpose is to collect and processes the objects and documentations of the history of the Hungarian hydrocarbon industry. In 1993 the Vilmos Zsigmondy collection was also placed here. Since then the relics of water mining have also been exhibite din the halls.

Since 1995 the material and written relics of the petroleum and natural gas transportation are exhibited in the Vecsés factory of the Mol Rt. Currently this collection of our museum can only be visited by the members of the profession.

In Zalaegerszeg, next to the Göcsej Village Museum, visitors can see the technical relics of hydrocarbon industry (mining industry, processing, transportation). In its permanent exhibition rooms visitors can learn about the technological process of the industry and a mineral collection. In the statue park busts of outstanding experts are seen.

Other collections and the memorial room of geologist Dr. Simon Papp are found under 13 Gyula Wlassics street, Zalaegerszeg.

Permanent exhibitions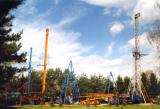 In the Southwesterly half of the open-air exhibition we can see the major devices and appliances of the Hungarian water mining.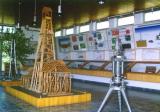 The exhibition displays the work procedures of the hydrocarbon industry. Plenty of flowcharts, photographs, graphs and other specific devices are displayed. Mockups and working models examplify the demonstrated materials.

further exhibitions