Natural History Museum of Bakony Mountains
- Zirc
Address:

8420, Zirc Rákóczi tér 3-5.

Phone number:

(88) 575-300

Opening hours:

Temporarily closed.
The museum was established in 1972. The roots of the current museum go back to the museums of Veszprém County and later Bakony Museum founded by Dezső Laczkó in 1902.

Researcher Jenő Papp started working for the museum in the 1950'ies. Through his labour the studies and researches of natural sciences in the mountains became more intensive. The establisment of the famous insect collection was also the result of his work. He initiated the research programme called "The natural characteristics of Bakony".

The claim for an independent natural science museum was difined during this research work. Finally, in 1972 the first natural science mussum of the countryside was opened in Zirc.

In 1970 Sándor Tóth became the new leader of the institution. Currently there are 20 collegues working at the museum. After the death of János Tóth, geologist János Futó had to meet the challenges of the new times. The new manager was placed on the top of an economically independent institution, which endevours to fight the scientific and museologic battles of the new millenium with a pace of modernization formerly not manifested.

The conventional triplicate principle of museum running (scientific research, development and education) well represents our operation and tasks.

Scientific labour: The museum has achieved significant scientific results. Some of these are published in our own periodical (Foka Musei Historico-Naturalis Bakonyiensis) and monograph-series (the results of the natural science reserches in Bakony). The conference for the researchers of Bakony is held every two years.

Collections: We manage with emphasized relevance the documentations of thje terrain researches, since this turns the investigated space into a museum. All of our collections have significantly grown since their establishment. Our botanical collection and insect collection are regarded as our most special and prominent collections.

Education: This part of our operation is done by the permanent exhibition which welcomes about 50 000 visitors annually.

Besides the exhibition we publish and spread educational publications in both the regional and natoional periodicals and papers.
Permanent exhibitions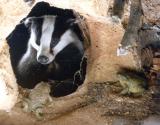 The achievments, that is all the geological, botanic and zoological materials collected during the past decades are displayed in our permanent exhibitions. In the glass-case between the three dioramas we exhibit the typical species of the beech and oak woods with the help of the coloured watercolour replicas of Vera Csapody.

further exhibitions