Childrens Organisations Historical Museum
- Zánka
Address:

8250, Zánka Zánkai Gyermek és Ifjúsági Centrum

Phone number:

(87) 568-500 /3130

Opening hours:

On weekdays 7-18
In its existence of a quarter of a century, it had 33 000 pieces listed and about 50 000 pieces unlisted documents and objects. The field of interest of the museum is unique in Hungary.

Permanent exhibitions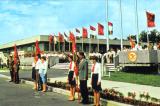 In the 1960'ies, regardless of an ever growing demand, very few permanent youth camps were established, and the ones in function were often badly equipped. Th epioneer organization decided to solve this problem by establishing new camps. Aftet long months of searching they finally found the scarcely inhabeted Ság Plains.

Between 1980 and 1987 the Child Organisation Historical Museum and the County Museum supervised the Balaton Highland Ethnographic Demonstration House found in th ecompound of the Zánka Child and Youth Center.

further exhibitions