Museum of Blue Dyeing
- Pápa
Address:

8500, Pápa Március 15. tér 12.

Phone number:

(89) 324-390

Opening hours:

Temporarily closed.
In the second half of the 18th century, countries west of Hungary suffered from an overabundance of skilled laborers in the textile and dyeing industry. For this reason, individuals and entire families migrated to Hungary, thereby increasing the numbers of masters in the textile profession. Thus the ancestors of the Kluge family came to Hungary from Sorau in Saxony (Zary, Poland) bringing the new technology of textile printing with them, which was the reserve style cold indigo vat dyeing.

Permanent exhibitions
The printing room displays one of the most important aspects of blue dyeing, i.e. this is the very location where the master and his apprentices patterned the textiles for dyeing. The vivid patterns were applied to the white textile by means of a special resist paste called the 'pap' and printing blocks.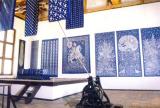 Irén Bódy graduated from the Collage majoring in textile pressing in 1952 before she began working as a designer for a factory where she spent ten years.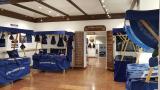 The task and purpose of the Blueprint Museum is to maintain the blueprinting craft and traditions, as well as to collect and exhibit its objective relics. That is why we visited the blueprint workshops still in function between 1984 and 1989. We arranged regular trade conferences and demonstrated these workshops to the visitors

The Kluge family realized the importance of mechanization in the textile industry. In the 1880s the family improved productivity of indigo printing by building a large workshop to accommodate all-season dyeing and drying of the cloth. Before that time, indigo printing was a seasonal industry because it was not possible to successfully dry the fabric in winter.

further exhibitions