Scientific Collections of the Trans-Danubian Calvinist Church - Museum
- Pápa
Address:

8500, Pápa Fő u. 6–8.

Phone number:

(89) 311-014, (89) 310-193

Opening hours:

01.11-30.04.: Tue-Fri 8-16

01.05-31.10.: Tue-Fri 8-16, Sat-Sun 9-17
Our collection developed from the collection of the Antique Collection of the Reformed Collage. The Antique Collection is almost the same age as the Reformed Collage but the professional work of collecting material only began at the end of the 18th century.

Permanent exhibitions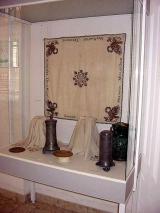 The objects of liturgy made in the 16-20th century are not used at sermons nowadays. They help us peep into the style of the art of the church, the technique of applied art in different periods. They also give a comprehensive picture of the reformed congregation of Transdanubia, its financial situation, and show the credit of the reformed congregations of the region.

further exhibitions