Gizi Bajor Actor Museum
- Budapest
Address:

1124, Budapest Stromfeld Aurél út 16.

Phone number:

(1) 225-3161

Opening hours:

Wed-Sun 14-18
Since 1962, the Gizi Bajor Actors' Museum, which belongs to the Hungarian Theatre Museum and Institute, has been a unique site for the memory of the Hungarian theatre history. The permanent exhibition, opened in 2010, on the first floor of the museum, preserves the memory of the one-time owner of the villa, Gizi Bajor, one of the biggest actresses of the Hungarian stage: her memorial room displays her personal objects, stage props, while the visitors can get to know the details of her professional and private life.

Permanent exhibitions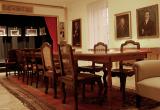 This room lets the visitors peep into the Dance-archives, the autonym collection of the OSZMI. The exhibition introduces the representatives of the motion art from Valéria Dienes and Olga Szentpál to Mária Mirovszki, the representatives of our ballet from the 1880s to nowadays (Anna Pallai, Imre Eck), and the exceptional representatives of the Hungarian Dance Art (Iván Szabó, Miklós Rábai, László Vásárhelyi) after 1945.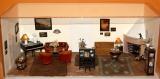 Gizi Bajor married the laryngologist Tibor Germán on 7 July, 1933 and together they moved into a house on the Németvölgyi street, which was later renamed Piłsudski street and then again to Stromfeld Aurél street. The originally single story house of the Beyer family was transformed into a grandiose villa, based on the plans of Béla Országh. The home of the couple soon became the fashionable meeting spot of the artistic circles.

further exhibitions