Herend Porcelain Art Museum Foundation
- Herend
Address:

8440, Herend Kossuth Lajos utca 140.

Phone number:

(88) 523-197, (88) 523-179

Opening hours:

03.02-11.04.: Tue-Sat 9:30-16:00

14.04-25.10.: Mon-Sun 9:00-17:30

27.10-19.12.: Tue-Sat 9:30-16:00
Those who visit Herend as a porcelain enthusias, will see from afar off the late classicist building of the porcelain museum. The first porcelains of Herend were born among these walls. In the 1840'ies it was rebuilt on several occasions, but the original building has not changed too much over the years.

A demand for the collection and exhibition of the porcelains made in Herend occoured as early as in the time of Mór Fischer. In his house in Tata he set up a store and a show-room - obviously for sales reasons. The displayed items at that time made up only a small part of thecollection of the contemporary museum.

In our collection we can still see objects from this time of beginning. Mór Fischer's grandson, Jenő Farkasházy Fischer, who lived abroad for several years, enriched the factory by a remarkably good library and his private collection. As an artistic critic, he published prominent studies in the field of porcelain arts. In 1896 he laid the foundations of the museum still seen today.

The museum was open before the general public directly before the first world war. This museum had many visitors, but it only functioned till the second world war.

In 1964 the institution was opened again. Its exhibition represented the history of the craft and displayed samples of the well-known and less well-known forms and motives. The technologies of porcelain production were also shown. This introduction is seen today in the Porcelainium opposite the museum.

The whole museum building was renovated in the year 2000. The late classicist building is protected as a monument, and as a consequence of this the building works had to be planned and carried out most carefully. The rooms of the temporal exhibitions are also found here. These provide place for miscellaneous fine arts and applied arts exhibitions. An original wood stove is also seen in the building. Visitors are most welcome by a wall painting recalling the past.

The exhibition represents the master pieces of local workers spanning from the early years of porcelain production up to our day. Through these various ages and styles are recalled before the visitors.

Since 1991 the museum supported by the Porcelánmanufaktúra Rt. has endevoured to secure all possible documentations for thos deeply interested or pursuing researches.

In our museum visitors can get a versatile picture of the past 150 years.
Permanent exhibitions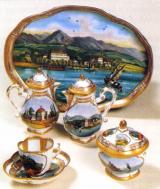 The real fine porcelain involves soil, water, air and fire in a harmonious way. The first step of porcelain making is to prepare a good quality mixture. The second phase of the technology is making the row product. The first models and shapes are made by artists. The plaster molds are used for certain modeling styles. One of the instruments used is the rotating disc.

further exhibitions