Herend Porcelain Art Museum Foundation
- Herend
Address:

8440, Herend Kossuth Lajos utca 140.

Phone number:

(88) 523-197, (88) 523-179

Opening hours:

03.02-11.04.: Tue-Sat 9:30-16:00

14.04-25.10.: Mon-Sun 9:00-17:30

27.10-19.12.: Tue-Sat 9:30-16:00
Those who visit Herend as a porcelain enthusias, will see from afar off the late classicist building of the porcelain museum. The first porcelains of Herend were born among these walls. In the 1840'ies it was rebuilt on several occasions, but the original building has not changed too much over the years.

Permanent exhibitions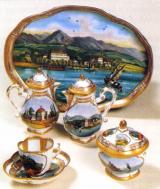 The real fine porcelain involves soil, water, air and fire in a harmonious way. The first step of porcelain making is to prepare a good quality mixture. The second phase of the technology is making the row product. The first models and shapes are made by artists. The plaster molds are used for certain modeling styles. One of the instruments used is the rotating disc.

further exhibitions