Dezső Laczkó Museum
- Veszprém
Address:

8200, Veszprém Török Ignác u. 7.

Phone number:

(88) 789-791

Opening hours:

Thu-Sat 10-18
On 24 May 1925, the 100 year-old county museum opened the doors of the "palace of culture," built to the plans of István Medgyaszay, to a public interested in historical treasures.

In the permanent exhibition Millennia of the Bakony and the Balaton Uplands, visitors are shown the ancient history of the county, through the treasures of various archaeological ages. After the Conquest, the establishment and organisation of the Hungarian Monarchy was a decisive turning point. By the acceptance of Christianity, 1000 years ago, Grand Duke Géza and his son, King Stephen I, guaranteed the country a position among the states of Europe. Veszprém county was part of the property of the royal Árpád family. Veszprém is the county town - one of the first secular and ecclesiastical centres. Hungary flourished in the Middle Ages, but was split into three sections due to the Turkish occupation, and in terms of population and material resources, was to a large extent destroyed. Reconstruction began in the early 18th century, and the struggles for national independence, the initiation of civil development and the creation of contemporary social conditions may be followed through two centuries of historical, cultural and art treasures.
Permanent exhibitions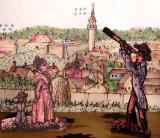 Fossils, several-hundred-year old antique books, first print literature and scientific works from the 18-19th century are lined up on the shelves of the Knowledge Store.

further exhibitions