Village Museum
- Nagygeresd
Address:

9664, Nagygeresd Szabó Lajos utca 35.

Phone number:

(94) 388-052

Opening hours:

15.04-15.10.: Sat 10-12

16.10-14.04.: Sat 10-11
The village museum found its home in the empty class rooms of the local school. The museum was founded in 1965. It was moved to its present place - Szabó Lajos street - in July 2000.

In the past of the village is being recaled by a rich region history and ethnography collection, in two exhibition halls.

The materials of the village museum were collected by school students and museum lovers, under the supervision of the founder József Pomogyi. József Pomogyi was directing the museum up to its death in 1994.

The museum was functioning under the supervision of the Vas County Council. The ownership and operation rights were transferred to the local council of Nagygeresd in 1993.

Permanent exhibitions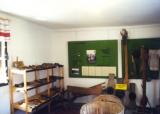 The current permanent exhibition was arranged by the museum founder József Pomogyi. The original material was later placed in two exhibiton halls instead of the one.

further exhibitions