Town Museum - Old Tower
- KĹ'szeg
Address:

9730, Kőszeg Chernel István utca 16.

Phone number:

(94) 360-240

Opening hours:

only on prior notice
The most robust tower at the fortification in Chernel Street in KĹ'szeg is the Keep (Old Tower or Old Bastion). The edifice with nine sides and three levels to it was constructed in the latter part of the 15th century. The 13-meter building provides an enthralling view.

Permanent exhibitions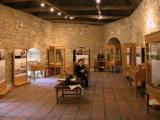 The exhibition on the ground-floor of the 'Ă–regtorony' presents the history of printing houses in the town of KĹ'szeg. The first printing house opened in 1836 in KĹ'szeg. Ever since then there were hardly any time when there wasn't one open, printing in Hungarian, German, Croatian, Slovenian or Slovakian.
The exhibition deals with four printing shops that operated during that time, showing tools, papers and further publications from the shop.

further exhibitions