Hungarian Museum for Science, Technology and Transport - Technological Study Store
- Budapest
Address:

1117, Budapest Kaposvár utca 13-15.

Phone number:

(1) 204-4095, (1) 204-4092

Opening hours:

21.04-30.09.: Tue-Fri 10-17, Sat-Sun, holiday 10-18

01.10-20.04 Tue-Fri 10-16, Sat-Sun holiday 10-17

On prior notice to groups: Joláthy Tünde: tunde@mmkm.hu
Previously, the Hungarian Museum of Science and Technology (later: HMST or Museum) got in touch with the public just through temporary exhibitions, at professional conferences, and as a guest participant on exhibitions done by many museums together at external locations. But from 3rd November 2006, HMST is able to meet with the public continuously at its own seat (H-1117 Budapest, Kaposvár u. 13-15).

Permanent exhibitions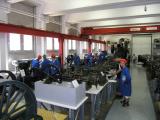 The
Study Collection
was added a new unit called
Mobileum
in 2008. The collection is to be found on 500 m2 with interactive material, including 130 giant equipments and further 150 small items about the most important stages of machine development in the past 150 years. Steam engines Hungary made engines and also pumps and turbines: all are ready to operate.  The visitors to the machine hall may 'discover' themselves how the really old machines worked.

further exhibitions