Szatmár Museum
- Mátészalka
Address:

4700, Mátészalka Kossuth u. 5.

Phone number:

(44) 502-646, (44) 502-647

Opening hours:

Mon-Fri 8-16
The Szatmár Museum was founded through the private initiatives of secondary school teacher Árpád Márton.

Árpád Márton, together with his pupils, began an intensive collecting work 1956. The material was temporarily placed in the grammar school. The collection had remarkably grown and the Ministry of Education declared it to be a region museum in 1963. However, without owning a building the museum had no place to store and exhibit its materials.

The turning point was in 1973, when the museum was offered a house and József Farkas was assigned director of the institute.

The spacious court yard was prominently suitable for the storing and exhibiting of various vehicles (carts, sledges, burrows and agricultural devices).

The tematic collection of ethnographic objects has a history of 30 years. As a result of this work there are nearly 100 pieces of carts and carriages welcoming the visitors. This is the biggest collection of the kind in the whole of Middle Europe.

Besides our permanent exhibitions we also arrange temporal exhibitions on a monthly basis. These are very popular in our region.

As József Farkas retired in 1991, László Cservenyák was assigned as the new director. Through his dynamic and hard work the museum became one of the most favoured cultural citadel of the region. As the collection was continuously growing, it became necessary to extend the museum building.

For the last ten years we have been joining in with the cultural programmes of Mátészalka, many of which are arranged in our museum.We have an excellent relationship with foreign museums. Our museum is knonwn and acknowledged in more and more regions of Hungary.We have a growing number of visitors every year.

Our task for the future is still to look for, protect and exhibit the endangered objects of the cultural heritage of our region.
Permanent exhibitions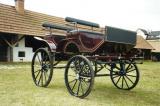 The Szatmári Museum of Mátészalka is the center of the spiritual and material heritage of the region. The biggest carriage collection of Middle Europe can be seen here. Almost a hundred carts are shown illustrating the means of transport of the vernacular and civic population. The carts are shown in a coach house divided into three parts.

further exhibitions