Szatmár Museum
- Mátészalka
Address:

4700, Mátészalka Kossuth u. 5.

Phone number:

(44) 502-646, (44) 502-647

Opening hours:

Mon-Fri 8-16
The tematic collection of ethnographic objects has a history of 30 years. As a result of this work there are nearly 100 pieces of carts and carriages welcoming the visitors. This is the biggest collection of the kind in the whole of Middle Europe.

Permanent exhibitions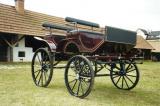 The Szatmári Museum of Mátészalka is the center of the spiritual and material heritage of the region. The biggest carriage collection of Middle Europe can be seen here. Almost a hundred carts are shown illustrating the means of transport of the vernacular and civic population. The carts are shown in a coach house divided into three parts.

further exhibitions