Rétközi Museum
- Kisvárda
Address:

4600, Kisvárda Csillag u. 5.

Phone number:

(45) 405-154, (70) 342-0774

Opening hours:

01.04-15.10.: Tue-Sat 8:30-16:30, Sun 8:30-14:30
In the 14th and 15th centuries, Kisvárda was the property of the Várdai family, several of whose members held high religious and secular office. The town lay at the junction of roads linking Munkács, Beregszász, and Szatmár, by way of the Tisza bend, with Királyhelmec, Kassa, and the towns and mining centers of the Szepesség. These transportation links explain why Kisvárda served as an important commercial center.

Permanent exhibitions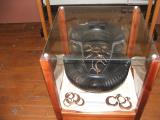 Kisvárdai museum first - and so far the biggest - collections is the archaeology collection. Significant part of the findings presented are from the castle of Kisvárda. As our city's and wider region's determining the oldest monument, the castle of Kisvárda with its history was an influencing factor in shaping local patriotism

Ajak is a habitat in Rétköz in Szabolcs-Szatmár-Bereg County with unique folk art, folk art traditions. The people living here for a long time have preserved their customs, traditions and dance traditions, as well as various traditional elements in the items they have used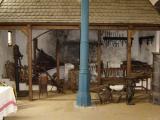 It is the last relic of the smith workshop of the village. Tools of smith masters of Fékesháza are shown there. The furnishing of the workshop was supervised by the master himself. It could be still operated nowadays.

further exhibitions