Budapest History Museum - Aquincum Museum
- Budapest
Address:

1031, Budapest Szentendrei út 135-139.

Phone number:

(1) 250-1650, (1) 430-1081

Opening hours:

Temporarily closed.
The first excavation in Hungary can also be connected to Aquincum : at the end of the 18th century at the time of the reign of Mary Teresa István Schönvisner University teacher found the sauna of the military bath on Óbuda. The excavations started in 1881 and they still last today. First the amphitheatre was excavated and then the center of the old civic town. The Museum of Aquincum was founded to show the findings in 1894.

Permanent exhibitions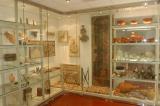 Storages of the Budapest Historic Museum preserved one of the largest archaeology collections in Hungary. An archaeology collection with millions of objects from ancient times to the Original Settlement is located in the Aquincum Museum.

further exhibitions