Water Supply Historical Collection of the Upper-Tiszanian Region
- Nyíregyháza
Address:

4400, Nyíregyháza Móricz Zsigmond utca 48.

Phone number:

(42) 502-200

Opening hours:

Mon-Thu 8-12

On prior notice: beyond the opening hours as well
In 1962 the concept for establishing regional museums was ordered by the Direction of the National Water Conservancy Division. The Water Conservancy Office of Nyíregyháza reacted at once by initiating the organisation of this work. In the Nyírvíz Building a room was designated as a "Museum".

Portraits of former corporation chairmen and directors had been collected from the attic, and restored at a later time. Successors and heirs of the great "water men" had been contacted in order to collect biographical data, personal belongings and photos. The staff of the Water Conservancy Office was widely informed about the importance of this collection work. As a result numerous old equipment and objests enrich the collection.

The entering of the material into the inventory and professional handling of the plans, archives and photographs started in 1966. This work lasted for about 10 years. Then suddenly due to a management decision the whole project ended. For a subsequent period of ten years dust covered the collection in a remote corner of the Nyírvíz Building. When finally in 1986 it came in proper hands again.

Between 1989 and 1994 the collection was exhibited in the Józsa András Museum in Nyíregyháza under the title "The Past of the UpperTisza Region".

Courtyard lamp with lamp stand Since 1988 the collection can be viewed at Nyíregyháza in Móricz Zsigmond utca. This place obtained operation licence on the 31 st of March 1989.

Visitors are quite amazed when they see the materials - relics out of the past of the waterworks - collected in past decades. The collection offers excellent source material for people writing dissertations, essays or conducting a research in various topics. Biographical data, essays, monographs, plans and projects are at the disposition of the researchers.

We are still collecting documents regarding water conservancy, there today's topics will be part of history in the future.

Permanent exhibitions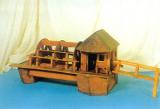 Visitors can see original engineering certficates from the end of the century, as well as surveying instrument: angle prisms, theodolites, leveling devices. The technical sketches of the Tisza, Szamos, Túr and Kraszna rivers and the drainage channels are also displayed.

further exhibitions